August 2022 Federal Grant Opportunities

Aloha,The August 2022 Grants Newsletter is your latest monthly resource for governments, schools, non-profit organizations, and businesses interested in pursuing opportunities for federal grant and cooperative agreement funding. Grant notices have been compiled for opportunities published in www.grants.gov, the Federal government's central website for grant funding. To access my grants e-newsletter click on the August 2022 Federal Grant Opportunities title above.

Section 1 of the newsletter contains current discretionary program listings and research opportunities.

Section 2 is a compilation of websites and links to general grant information provided by the Federal Agencies that most often have discretionary grant solicitations.

Federal grants are very competitive. To ensure your application is processed, please verify that your organization's registration in the System for Award Management (SAM) is valid and current. Go to SAM: Systems for Award Management and follow the FAQs and User Guides to update and verify your SAM data. Current SAM registration is mandatory for most agencies, and grants will not be awarded to applicants without valid and current registration in SAM. Remember: Registration on SAM.gov is free of charge.

New and modified national competitions of interest include:

Department of Agriculture- Rural Utilities Service The Rural eConnectivity Program CFDA Number 10.752 is providing loans, grants, and loan/grant combinations to facilitate broadband deployment in rural areas. In facilitating the expansion of broadband services and infrastructure, the program will fuel long-term economic development and opportunities in rural America.

Department of Agriculture- National Institute of Food and Agriculture Small Business Innovation Research and Small Business Technology Transfer Programs Phase I CFDA Number 10.212 is supporting small businesses in the creation of innovative, disruptive technologies and enable the application of research advancements from conception into the market. The STTR program aims to foster technology transfer through formal cooperative R&D between small businesses and nonprofit research institutions.

Department of Commerce- Climate Program Office FY 2023 CFDA Number 11.431 is addressing climate challenges by managing competitive research programs through which high-priority climate science, assessments, decision-support research, outreach, education, and capacity-building activities are funded to advance our understanding of the Earth's climate system, and to foster the application and use of this knowledge to improve the resilience of our Nation and its partners.

Corporation for Community and National Service- FY 23 Volunteer Generation Fund ARP CFDA Number 94.021 is supporting efforts that expand the capacity of volunteer connector organizations to recruit, manage, support and retain individuals to serve in high quality volunteer assignments. (September 13 deadline)

Department of Education- Office of Elementary and Secondary Education (OESE): School Choice & Improvement Programs (SCIP): Full-Service Community Schools (FSCS) Program CFDA Number 84.215 is providing support for the planning, implementation, and operation of full-service community schools that improve the coordination, integration, accessibility, and effectiveness of services for children and families, particularly for children attending high-poverty schools, including high-poverty rural schools.

Department of Energy – PAMS Department of Energy – Office of Science Office of Science FY2023 Phase I Release 1 CFDA Number 81.049 is announcing two distinct funding opportunities for DOE: the Small Business Innovation Research (SBIR) and the Small Business Technology Transfer (STTR) programs for Fiscal Year (FY) 2023 Phase I Release 1. Approximately 200 grants will be made.

Environmental Protection Agency- Environmental Justice Thriving Communities Technical Assistance Centers Program (EJ TCTAC) CFDA Number 66.309 is intent on making significant investments in the health, equity, and resilience of communities, to address past, current, and future environmental health and justice challenges. To maximize these significant investments, new and innovative strategies and approaches for issues such as community engagement and participation in environmental programs, equitable distribution of financial resources, capacity-building and outreach, and technical assistance and training to enhance access to financial assistance opportunities and promote effective grants management and performance, are necessary especially for underserved communities that have, and continue to be, plagued by environmental pollution and health, and environmental justice, challenges.

These additional competitions from previous newsletters are included as a reminder:

The Guidebook to the Bipartisan Infrastructure Law is in the Special Notice Section at the beginning of the newsletter. This guidebook which can be downloaded provides communities with detailed information of what to apply for, who to contact, and how to get ready to rebuild. This guidebook is a roadmap to the funding available under the law, as well as an explanatory document that shows, in as much detail as currently available, program-by-program information.

Department of Commerce – NOAA- Ocean Exploration Fiscal Year 2023 CFDA Number 11.011 is soliciting proposals for interdisciplinary ocean exploration in waters under U.S. jurisdiction that support national priorities, including NOAA science and technology priorities of uncrewed systems, artificial intelligence, cloud computing, 'omics data, and citizen science. (September 29 deadline)

Department of Commerce- The Middle Mile Broadband Infrastructure Grant (MMG) Program 11.033 is providing funding for the construction, improvement, or acquisition of middle mile infrastructure. The purpose of the grant program is to expand and extend middle mile infrastructure to reduce the cost of connecting areas that are unserved or underserved to the internet backbone. (September 30 deadline)

Environmental Protection Agency- Training and Technical Assistance for Rural, Small and Tribal Municipalities and Wastewater Treatment Systems for Clean Water Act Prevention, Reduction, and Elimination of Pollution CFDA Number 66.446 is providing training and technical assistance to rural, small, and tribal municipalities, publicly owned wastewater treatment works, and decentralized wastewater treatment systems for the prevention, reduction, and elimination of pollution. Eligible activities include training and technical assistance only. (August 22 deadline)

Department of Health and Human Services- Health Resources and Services Administration FY 2023 Early Childhood Development CFDA Number 93.224 is supporting health centers to increase equitable access to ECD screening and follow-up for underserved children ages 0-5 and their families.

Department of Labor- Employment and Training Administration National Dislocated Worker Grants Program Guidance CFDA Number 17.277 are discretionary grants awarded by the Secretary of Labor under Section 170 of the Workforce Innovation and Opportunity Act (WIOA) to provide employment-related services for dislocated workers. The Department funds two types of DWGs: Disaster Recovery and Employment Recovery. (Rolling deadline)

National Endowment for the Humanities- Humanities Connections CFDA Number 45.160 is funding projects to expand the role of the humanities in undergraduate education at two- and four-year institutions. Awards support innovative curricular approaches that foster partnerships among humanities faculty and their counterparts in the social and natural sciences and in pre-service or professional programs (such as business, engineering, health sciences, law, computer science, and other technology-driven fields) in order to encourage and develop new integrative learning opportunities for students. (September 1 deadline)

National Endowment for the Humanities- Public Humanities Projects CFDA Number 45.164is supporting projects that bring the ideas and insights of the humanities to life for general audiences through in-person, hybrid, or virtual programming. Projects must engage humanities scholarship to analyze significant themes in disciplines such as history, literature, ethics, and art history. (January 11, 2023 deadline)

Department of Transportation- Safe Streets and Roads for All Discretionary Grant Program CFDA Number 20.939 is willing to support planning, infrastructure, behavioral, and operational initiatives to prevent death and serious injury on roads and streets involving all roadway users, including pedestrians; bicyclists; public transportation, personal conveyance, and micro-mobility users; motorists; and commercial vehicle operators. (September 15 deadline)

Department of Transportation- Reconnecting Communities Pilot Discretionary Grant Program CFDA Number 20.940 is awarded on a competitive basis for projects that reconnect communities by removing, retrofitting, or mitigating highways or other transportation facilities that create barriers to community connectivity, including to mobility, access, or economic development.

Grantee Spotlight:


Grantee Spotlight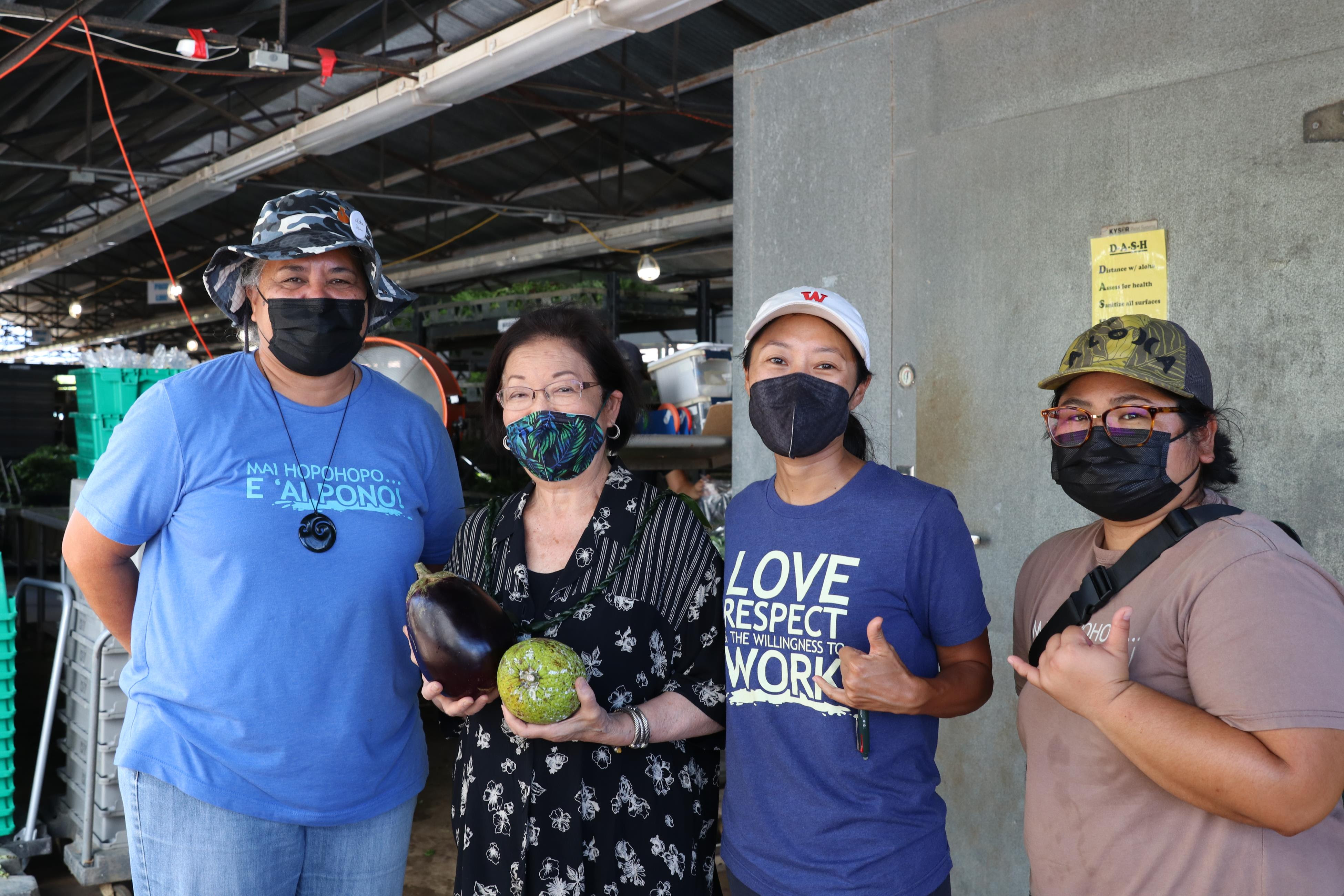 MA'O Organic Farms operates one of the largest certified organic farms in Hawaii that not only produces more than 300,000 pounds of fruits and vegetables for local consumption, but also provides educational and career pathways for Hawaii's future leaders in sustainable agriculture. Since 2000, nearly 1,200 high school and college interns have received hands-on training through paid internships and more than 200 interns earned their associates or bachelor's degree through MAʻO Farms college tuition programs. In 2017, MA'O Farms was awarded $1.6 million in federal grant funding from the Economic Development Administration (EDA) to fund the construction of a new post-harvest packing and processing facility. Senator Hirono secured an additional $896,000 in FY22 Congressionally Directed Spending funds to complete the construction.

If you are applying for a federal grant and would like to request a letter of support, or have questions about the application process, please contact my state office at Hawaiioffice@hirono.senate.gov, and include this form and an abstract of your project. Letters of support are submitted directly to the granting agency from my office once the complete application has been submitted.

Please do not hesitate to contact my staff if you have any questions before submitting your application.I encourage you to pass along these resources to anyone you believe would benefit from this information. If you do submit a grant proposal, please stay in touch by contacting my state office.

Mahalo,Mazie K. Hirono
United States Senator

You can follow my work in the U.S. Senate on Facebook, Twitter, and Instagram. If you would like to contact me again, please visit my website.